Makin' Bacon
Alward's Market in Hale, Michigan has been makin' our famous bacon since the 1940's. Our bacon was selected best bacon in Michigan! All of our home cured meats and bacon are still made the old-fashioned way with a wood-smoking technique that sets our meats apart from all others.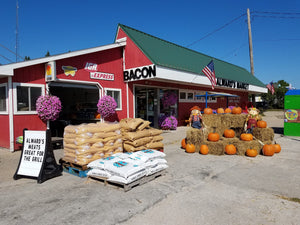 Superior Quality and Hometown Hospitality
Our meats are of the highest quality and are wood-smoked the old-fashioned way, right at our store. This process makes our jerkies, hand-stuffed sausages, German bologna, and metwurst unique and a stand-out amongst all others. Another feature that is becoming a lost art is our full-service meat counter, where you can have your steak inspected and cut to your specifications, just like they did generations ago.

You're never a stranger for long at Alward's Market, where we value all of our customers and treat them as friends.
Testimonials
A neighbor turned us on to Alward's smoked bacon. It is the best bacon on the planet!

Paul E Schauer
Thank you for giving my husband the best birthday present ever! Can't go wrong with the gift of bacon, especially when we live 13hrs away from your store.

Andi Booker
Good quality meat, they smoke their own meats and make the best bacon burger. It is fresh ground bacon with 80 percent ground chuck, mmm the best.
The Turkey Jerky is the best jerky I have ever had and it's not even close. Wow!

Nate F., Potomac, Maryland